Last Updated on October 27, 2022 by Oktay Sari
In this post I'll focus on the highlights and announcements around Microsoft Intune and Security during Microsoft Ignite 2022.  I will also try to give an impression of my experiences during Ignite 2022.
Microsoft Ignite 2022 (Oct 12 – 14) was perhaps different than any other Ignite I attended before but looking back I'm still very happy I did go. I'm back in Seattle since covid first kicked in and happy the city vibes are still the same. I came a couple of days early to overcome my jetlag and went to the Seattle Convention Center on Tuesday to pick up my bag.
I remember Ignite in Orlando (2019) where you could pick up your badge at the airport but no attendee check-in at the Seattle airport this year. Then again, there was no need, since Microsoft expected only around 3.000 attendees. Badge pickup was smooth, and I even managed to get myself the very last and complete set of limited-edition Microsoft Ignite buttons 😊
I always have a bad jetlag and that's the main reason I travel a couple of days earlier so I can adjust and stay sharp on the convention center floor for Ignite. That being said, arriving early also gives me a day or 2 to be a tourist and do some fun things while over there. Here are some tips if you decide to go to the next Microsoft Ignite. Save the date for Microsoft Ignite 2023, November 15 – 16!
If possible, arrive a day (or 2) in advance.
Pick-up your badge before the first day of Ignite
Make sure to build your schedule in advance
Be on time for the sessions! You don't want to end-up in overflow rooms.
Make sure to get in touch with your contact at Microsoft in advance
Try to visit the Microsoft Campus.
Talk to others and get to know new people
If you travel from abroad, make sure you have a valid VISA or ESTA
Check covid regulations
Install the following apps on your mobile: Uber, Bird and Lime, Transit Go App
Travel by electric steps if you need to walk longer distances or are in a hurry
From Airport to City center & back: check out the Transit Go App and travel by Link Light Rail
You can take the Monorail to visit the Space Needle.
Talk to your employer and see if they can help/sponsor your trip. It's not all fun! It's a great opportunity to learn and stay ahead of the curve!
Microsoft Ignite 2022 – Microsoft Intune Announcements
The Microsoft Endpoint Manager (MEM) is rebranded to Microsoft Intune. Personally, I kind of liked it when it was Intune back in the days and now that name is back. From Intune to MEM to Intune again 😊But there's more. Microsoft Intune is now a product family.
"Today, we're announcing that Microsoft Intune will be the name of the growing product family for all things endpoint management at Microsoft"
The new Microsoft Intune plan
Microsoft is planning to launch a new suite of advanced endpoint management solutions in March 2023 together in one plan. Although I understand why these features are going to be premium features, I hope they will come at a good bundle price. I also believe you don't have to buy all of them. If I'm correct, these features can be added as separate add-ons.
This new plan will include Remote Help (currently generally available), Microsoft Tunnel for Mobile Application Management, Endpoint Privilege Management, as well as advanced endpoint analytics, app patching and packaging. And there's even more to come.
Microsoft Tunnel for Mobile Application Management is expected to be generally available January 2023
A public preview for Endpoint Privilege Management is expected early 2023.
Yes, there is a price to pay, and I guess that shouldn't come as a surprise. For now, it seems that this new plan is going to bring a lot.
Remote Help for Windows and Android
Remote help was launched in April 2022 already, and the March 2023 release will add some more features. Think of ServiceNow integrations, a better messaging system for non-compliant devices and enhanced elevation. They are also launching support for Android devices but I'm not sure if the release date is March 2023.
Tunnel for Mobile Application Management
Microsoft Tunnel for MAM should make it even more easy for companies to adopt a BYOD program since it does not require device enrollment. It extends the VPN gateway to unenrolled iOS and Android devices so that employees can securely access resources and apps on-prem while using modern authentication, Single Sign On and conditional access.
Endpoint Privilege Management
This one is my personal favorite! Can't wait for the public preview in early 2023. Users will have a standard user account (they do already, right?) but can be dynamically elevated to admin privilege for specific approved tasks. Like…. installing a specific application. This advanced feature will become generally available as part of the suite of advanced endpoint management solutions but here's some other good news: It will be available as an individual add-on to your Intune subscription too!
Advanced endpoint analytics
Microsoft says "A new level of intelligence and automation to empower IT admins, helpdesks, and end-users " So you can explore and address the needs of specific groups of devices and also will be able to drill-down even more on specific issues. Not much info right now, but you'll have real time visibility, AI, machine learning and automation do the hard work for you. One thing that caught my attention was the improved integration with proactive remediations. You'll be able to run customized remediation scripts on individual devices on-demand and in real time while doing your day-to-day troubleshooting sessions. Not sure though when this feature will become available.
Time to be a tourist in Seattle
While I was in Seattle, I thought I might as well have some fun. So, what do Europeans do? They hire a Ford Mustang convertible and try to catch a glimpse of Mount Baker while on a road trip to Vancouver with Osman. What little did we know…Let's just say that a convertible is NOT the car you want to take for a mountain trip. Other than that, if you do decide to go, you'll have to see the Public Market, the Space Needle, and if you're adventurous do a sight-seeing trip with a seaplane over Seattle.
More to come…
Then there is even more to come. Pay special attention to nr. 4!
More management features for specialty devices
Linux Desktop Management
App deployment and app update management for third party apps
Multiple company and account support for MAM on a single device! Say what?? Looking forward to this one!
Linux Desktop Management
October 4th Microsoft announced the general availability of Linux desktop management in Microsoft Intune. They also announced a new Microsoft Teams progressive web app for Linux desktops that will be available in the coming months. This first release will include the following functionalities;
Enrollment of Ubuntu LTS (22.04, 20.04) desktops
Conditional Access policies protecting web applications via Microsoft Edge
Standard compliance policies
Support for Bash scripts for custom compliance policies
Specialty device management
Specialty devices are getting smarter and have more and more access to corporate resources and data. Therefore, we need to be able to better protect these specialty devices. The new suite of advanced solutions will include these capabilities.
Following the initial release…
Multiple company and account support for MAM on a single device
I think this one is overlooked because it seems to be on the roadmap (or backlog) and not to be released soon but personally I think it will make things around MAM a lot simpler. Only hope this one will come sooner. I also hope that this feature will become available for all who have an Intune license and not as part of the premium features.
Fun time: Meet some great people in Seattle
I've also had the opportunity to meet with some great people while I was there. Normally I wouldn't call out people by their names, but I'm trying to give you an impression what an in-person event can be like. You just bump into some people and the dynamics of those chance encounters are…simply put…great.
Some of these encounters took place during and after Ignite. I want to start with Joe Camp. I met with Joe the first time I was in Seattle for the Microsoft MVP summit in 2019. I was nominated the Windows Insider MVP award back then and he was the Product Marketing Manager for the Windows Insider Program. I remembered Joe as a very approachable person with whom you could have a good conversation with. What a surprise to bump into Joe while walking back to my hotel.
Another memorable moment was the day we teamed up with Paul Huijbregts. He's the Sr. Product manager for Defender for Endpoint. We bumped into him on the conference floor and later on, that day, he joined us for a Ignite Afterparty and after that for dinner. To our surprise, Paul walked out the party zone with none less then Scott Manchester (Partner Director of Program Management, Windows 365), who also decided to join us for dinner that evening.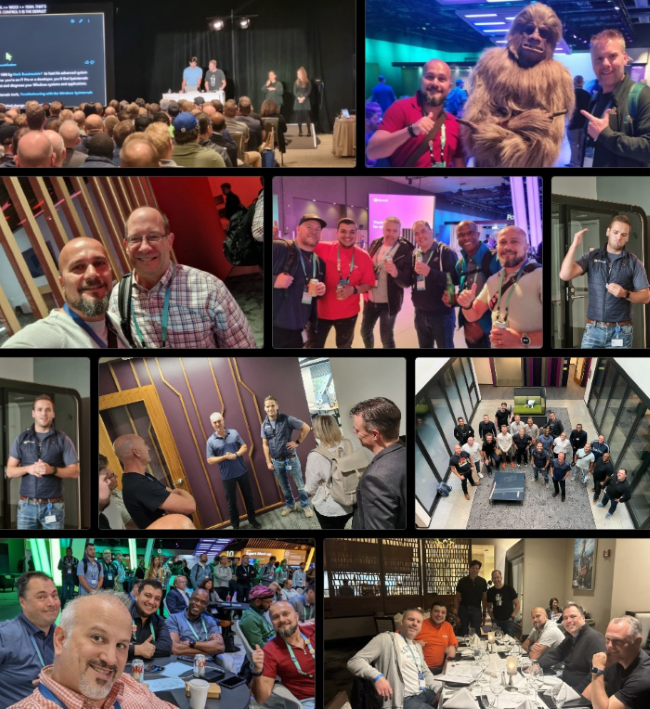 My friend Osman Akagunduz, who managed to book a reservation for 5, was now struggling to book more seats, because the group was growing by the minute. And if you've ever tried to book a reservation in Seattle, well… you can fill in the rest.
Did I mention that Dr. Erdal Ozkaya, a leading Security Expert named along the top 50 technology leaders was joining too? He's a good friend of Raymond Comvalius who invited him to join the dinner party. Raymond was there with Sander Berkhouwer. Both are veteran Microsoft MVP's. Last but surely not least, Pascal Slijkerman, completed the dinner party. What a great guy! Happy to have met him.
We waited for a while for our table to be ready, but I can tell you it was worth the wait. While our waiter/server walked us to our table, we saw that right next to us, there was another dinner party with Mark Russinovich, Scott Hanselman and others, which resulted in a nice group photo and memories to last. What was revealed and discussed that night…stays in Seattle…
There are many more people I've met with during Ignite! Thank you all for making this a great experience!
Microsoft Ignite 2022 – Security Announcements
Microsoft announced more than 100 new products at Ignite 2022, and here are some of the security announcements I think are worth mentioning again. There are a lot of new capabilities for Defender for Cloud!
Microsoft Defender for DevOps
Microsoft is extending their security offerings to DevOps by introducing Microsoft Defender for DevOps. Microsoft says his new product will provide visibility across multiple DevOps environments to manage security and strengthen cloud resources.
Microsoft Defender Cloud Security Posture Management (CSPM)
Available in preview, this new tool is designed to help security teams by delivering integrated insights across cloud resources, external attack surfaces, and will provide contextual risk-based information. Microsoft says it will reduce recommendation noise by 99%.
Microsoft cloud security benchmark
Now general available, this benchmark maps best practices and recommendations to help improve the security of workloads, data, and services on Azure and multi-cloud environments. Microsoft cloud security benchmark is the successor of Azure Security Benchmark (ASB), which was rebranded in October 2022.
Automatic attack disruption in Microsoft 365 Defender
To help in responding to threats, using the power of extended detection and response (XDR), automatic attack disruption will help you detect and respond faster and more accurately to external attacks and insider risks.
Relax a bit more: Visiting the Microsoft Campus
For the next day, Raymond Comvalius arranged for a guided tour on Campus with Christiaan Brinkhoff (Principal PM and Community Lead, Windows 365). Christiaan gave us a nice tour around campus and Building 121, which is also the Intune building. I think the group was a lot bigger than Christiaan thought it would be 😊. That day, I also had a meet with Jason from the MSRC team. We worked together on a case and decided to meet while I was over there and have a cup of coffee. Thanks Jason!
Make sure to visit the Microsoft Campus when you are in Seattle and make the most of it. Try to get in touch with your Microsoft contacts and ask them if they are willing to have a meet or give you a tour around campus.
Microsoft Ignite 2022 sources:
Microsoft Ignite 2022 Book of News
Microsoft Intune related sources:
Security related sources:
Time to relax: Something to eat, something to drink
To end this blog, I choose to share some of the spots for a drink and good food. Here are some, worth a visit:
Elephant & Castle (Pub with burgers)
Miss Café (for a Turkish breakfast
SPIN Seattle (ping pong and food)
Bacco Café (Great breakfast)
Von's 1000 Spirits (restaurant and lots of bottles 😊)
Ruth's Chris Steak House
The Cheesecake Factory
Pelicana Chicken (I dare you to try the *** hot sauce)
No, this blog is not going to change in a travel blog. However, there are so many good recaps on Microsoft Ignite 2022, and I wanted to do something else and give an insight to the experience itself too. Hope you liked reading this post. Let me know what you think below.
Here's a video impression putting all this together in a couple of minutes.